Hey Hey... thanks to everybody for coming out to see the Markers at the un air conditioned Shea Stadium venue... also... what's wrong with you? Do you hate yourselves? It was 300000 degrees in there? Even the singer of the band almost passed out...
Spectre Folks got a small torrent of gigs this week starting tomorrow.. Me and Peter Meehan will play duo opening for Chicago band Disappears... Friday it's solo-Nolo at a gig in philly with MVEE and Aswara... then next Tuesday it's a full band gig at Cameo gallery back home (cough) in Williamsburg at the Cameo Gallery with Sands. Please try to contain your excitement... here's some previews from various web locations
Spectre Folk duo (Pete Nolan + Peter Meehan) will open for Disappears at The Cake Shop in New York, NY on July 27.
Spectre Folk have a new 12″ EP - The Blackest Medicine, Vol.IIavailable now on the Woodsist label and at the sonicyouth webstore. Altered Zones recently interviewed Pete Nolan and Peter Meehan.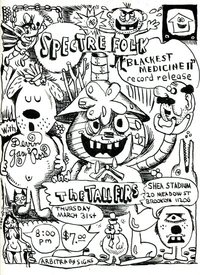 Fire Museum Presents:


MV & EE
Spectre Folk


Zillions


Aswara



Friday, July 29th 7:30PM
Highwire Gallery
2040 Frankford Ave
Philadelphia, PA
$6


MV & EE (Brattleboro, VT):

"Beaming down from the cosmos to a transmitter in some desolate place west of the Appalachian Mountains comes Liberty Rose, the new LP from Brattleboro, Vermont's prolific duo/collective MV & EE. Noted for their ability to assemble both musicians and noises into dense, reverb-laden compositions, Matt Valentine and Erika Elder's music describes the companionship between human-modified sound and nature's own silence and echoes. Aptly split into two suites of equal running length, Liberty Rose, like most of the duo's discography, hearkens back to the days of Scott Walker and Pink Floyd's explorations into music's atmospheric qualities... With the air of dissonance that's common throughout their discography, MV & EE capture well the state of being lost. Rather than forging through the anxiety and helplessness that this state offers, however, the band lavishes in its adventurousness and liberation." - Jeff Roesgen/Tiny Mix Tapes

Spectre Folk (Brooklyn):

"Spectre Folk is the long-percolating solo guise of Magik Markers drummer Pete Nolan, a black sea of noise guitar, psych-jams, no-fi experiments, and other interplanetary gunk released on a never-ending waterfall of tapes, CD-Rs, vinyl, and the occasional CD. Nolan's latest, Compass, Blanket, Lantern, Mojo (released via his label, Arbitrary Signs), is the most mellow, soothing, and ethereal of his sounds that these ears have heard, channeling the dusty desert vibe of Ennio Morricone, exploring a little Six Organs churn, and finding lusher new secrets in his home-recorded murk. In short, it's dreamy, dreary, and a warm place to curl up."- Christopher Weingarten/Village Voice

Zillions (Philadelphia):

New project by Rosali Middleman of Blood Like Mine ("Down home experimental swamp-a-delic americana to tickle your eardrum." says Fire Museum.) . - Quoting Brickbat quoting us

Aswara (Asheville, NC):

"This is the most recent release on rafi bookstaber's azriel label, upping the stakes of his aswara duo w/ paul "p." grimes via this blast of minimal, diffused free-electronic lacings, ranging from a righteous cymbal/gong-bath to kosugi-esque auto-filter voice & flute stratagem to some fine free-percussion & synthesizer blottage dotting the remainder ... a vision artifact of ancient future harmonies and inner cosmosis. supreme inner cranial reverberational reflections of where you are. unspoken language and incorporeal communion." - Mimaroglu Music